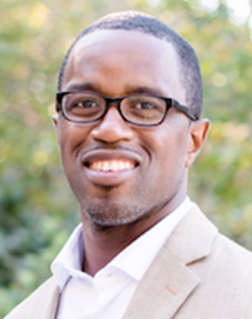 Dr. Jamie Lathan has been selected as NCSSM's new Vice Chancellor for Extended Learning. After an intensive national search process including a very strong pool of 25 qualified candidates, finalists were selected and interviewed by a final interview committee. Lathan was the top candidate throughout the process, according to Chancellor Todd Roberts.
"His energy and passion for the mission of our school to provide opportunities for students and educators across our state, along with his experience and vision will make Dr. Lathan an outstanding Vice Chancellor for the Division of Extended Learning," Roberts said. "I know that you will join me in congratulating Dr. Lathan as he assumes this role on a permanent basis."
Lathan has served as interim Vice Chancellor of the division for the past eight months, and has worked for 20 years at NCSSM as a teacher in the residential and virtual programs and as Dean of Extended Learning, along with his various statewide leadership roles.
"Dr. Lathan is very highly regarded within our institution and across the state, and I look forward to his continued leadership for NCSSM and all he will bring to our school and our state in this role," Roberts said.
While serving in the interim role, Lathan led a rebranding exercise for the division, which was formerly known as Distance Education and Extended Programs, or DEEP. The new name, NCSSM Extended Learning, communicates at first glance the division's focus on programs that extend the reach of NCSSM throughout the state of North Carolina, particularly to underrepresented minority students and those in rural areas who deserve additional opportunities to learn and grow. NCSSM Extended Learning strives to help meet NCSSM's institutional strategic objective of reaching 100,000 North Carolina teachers and 1 million students, partnering with communities and regions across the state and beyond to advance student learning and outcomes.
One of the signature program offerings of NCSSM Extended Learning also has a new name: NCSSM Connect, the consumer brand for our array of individual synchronous distance education courses offered through local school partners. These honors-level courses supplement a student's local high school curriculum. These courses have previously been known as Open Enrollment – or Interactive Videoconference or IVC – courses. Learn more about NCSSM Extended Learning & NCSSM Connect
NCSSM's Ignite +Transform Campaign includes $10M in funding and support to deepen these transformational leadership experiences for students across the state of North Carolina. Thanks to the generous support of the Anonymous Trust, Michelle and Alan C. Cline '90, Mitchell and Dawn Epstein and many others, NCSSM has received more than $5M towards this goal. For more information on how you can support the Ignite + Transform Campaign, please visit us here.